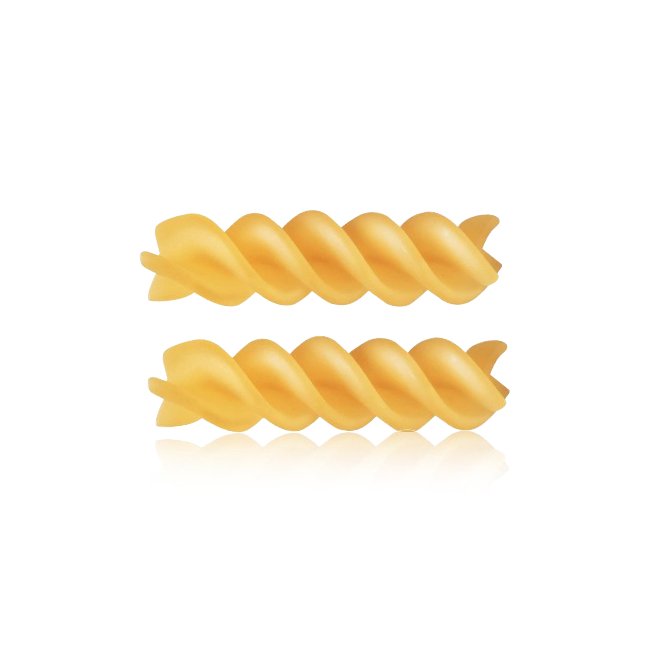 Characteristics, History and Pairings
Fusilli, together with spaghetti, is probably one of the oldest pasta shapes. Originally from the south of Italy, fusilli pasta has most certainly been influenced by Arabic culture. In Sicily fusilli pasta was called busiata and in Sardinia busa, from the Arab word bus that means "cane", the tool used in the Middle East to make this pasta.
On the other hand, fusillo is a Neapoletan name and comes from fuso, the iron tool with a square section used to make this type of pasta, very similar the tool used by weavers.
The same technique – wrapping spaghetti strings around an iron rod and leaving them to dry – was used in some areas of the south of Italy to make strangolapreti, zufolitti, fischietti and lombrichelli.
Originally, there was one main difference between fusilli made in the south of Italy and fusilli made in the rest of the country: the length. The variant made in the south was thinner and longer, while the one made in the rest of Italy was shorter and had more of a helical shape, just like the fusilli pasta shape we know today, patented by two Italians living in New York – Guido and Aurelio Tanzi – who in 1924 built a machine to produce fusilli on an industrial scale: the fusilla.
Cooking Time
12 minutes
Region of Origin
Fusilli pasta was born in the south of Italy, in Molise and Campania, but the "original" recipe is believed to be Arabic.
Best Pairings
Fusilli pasta can be paired with a range of sauces made with fresh ingredients, like fusilli "alla sorrentina" – prepared with tomatoes and melted mozzarella – or rich sauces, such as the traditional ragu from Molise – with lamb, veal, and sausage – or the typical Sicilian fusilli "alla norma", with tomatoes and aubergines. The twisted shape of fusilli pasta captures sauce very well making it one of the great favourites.
Ingredients
Durum wheat semolina and water.
Average nutritional values for 100 g of raw product
– Energy: 1555 kJ / 367 Kcal
– Fat: 1.5 g
– of which saturates: 0.2 g
– Carbohydrate: 73.0 g
– of which sugars: 3.0 g
– Fibre: 2.5 g
– Protein: 14.0 g
– Salt: 0.01g
Cooking Tips
Do you cook pasta in a sustainable way? Here are a few tips that can make a difference.
1. Don't waste water, use only the necessary amount: 1 litre of water for every 100 grammes of dry pasta.
2. Cooking with a lid will save time and gas or electricity and the water will boil sooner.
3. Add the salt when the water starts boiling and add the pasta immediately after.
4. Put the lid back on halfway through the cooking time, switch off the gas (or electric hob) and finish cooking your pasta in the hot water inside the covered pot.