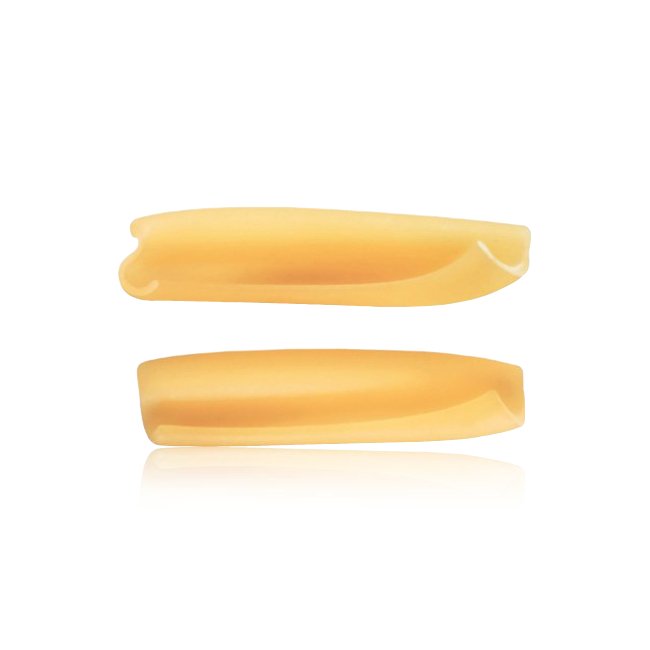 Characteristics, History and Pairings
Cavatelli, together with lagane (lasagne), are most probably the oldest type of Italian home-made pasta.
A type of shell shaped pasta, similar to gnocchetti sardi, but smooth rather than grooved.
Cavatelli shapes belong to a category of pasta known in the south of Italy as stracinate, which means "dragged", to reflect the way the pasta is dragged across the worktop using the fingers in order to give it its characteristic shape. The exact date is unknown, but it's thought that cavatelli first appeared in southern Italy during the empire of Fredrick II (approx. 1200).
Known as cavatielle in the dialect of Molise, the name derives from the caved in shape, perfect to capture sauce.
Traditionally, cavatelli is a type of smooth pasta – however, there are grooved versions – the size of which should "not allow more than 10 shapes to be contained in a spoonful".
Cooking Time
11 minutes
Region of Origin
Cavatelli originated in Molise but quickly became popular in the south of Italy, starting from the bordering regions of Abruzzo, Puglia, and Basilicata and reaching Campania and Sicily. It's unknown whether cavatelli pasta's popularity spread from Molise or if other regions created their own versions around the same time.
Best Pairings
In Molise, the typical dish is "cavatielle e carne e puorche" in which this pasta is served with pork meat, traditionally prepared during regional and local festivals throughout the year. The traditional sauce for cavatelli is a rich ragu sauce made with pork ribs, sausage, and tomato. Another typical variant is known as "pouper's sauce", without meat, made with local lard, tomato, basil, and parsley.
Vegetarian versions are prepared with broccoli and chilli or other seasonal vegetables depending on availability.
In other regions, cavatelli are served with a range of different sauces, made with seafood or cime di rapa in Puglia, crusco peppers and salted ricotta in Basilicata, hog and broccoli in Campania, and with tomato sauce, basil and fried aubergines in Sicily.
Ingredients
Durum wheat semolina and water.
Average nutritional values for 100 g of raw product
– Energy: 1508 kJ / 356 Kcal
– Fat: 1.5 g
– of which saturates: 0.4 g
– Carbohydrate: 72 g
– of which sugars: 3.0 g
– Fibre: 3.0 g
– Protein: 12 g
– Salt: < 0.01 g
Cooking Tips
Do you cook pasta in a sustainable way? Here are a few tips that can make a difference.
1. Don't waste water, use only the necessary amount: 1 litre of water for every 100 grammes of dry pasta.
2. Cooking with a lid will save time and gas or electricity and the water will boil sooner
3. Add the salt when the water starts boiling and add the pasta immediately after.
4. Put the lid back on halfway through the cooking time, switch off the gas (or electric hob) and finish cooking your pasta in the hot water inside the covered pot.