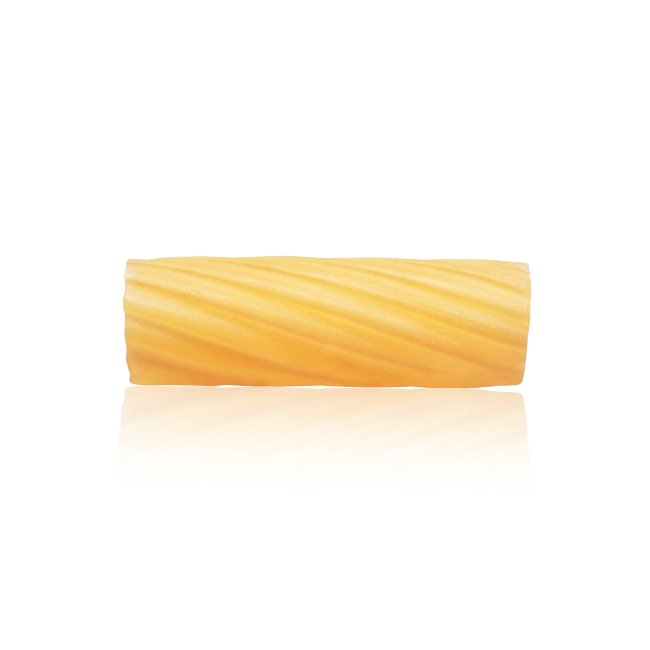 Characteristics, History and Pairings
Tortiglioni is a short, straight, tubular kind of pasta with spiralling grooves on the outside surface. The name derives from the Latin word tortillare, meaning "to wrap", a reference to the characteristic design from the lathe used in pasta manufacturing. Tortiglioni pasta is part of the maccheroni family and is one of the oldest shapes in Italy, and just as rigatoni, it can be paired with a wide range of sauces.
Cooking Time
12 minutes
Region of Origin
It's difficult to pinpoint the origins of this type of pasta: it most probably comes from the south of Italy, quite possibly form Campania.
Best Pairings
Tortiglioni can be paired with all types of sauces, especially with the most thick and robust, rich and creamy, such as ragu or creamy and cheesy sauces. Great to prepare oven baked dishes au gratin. The hollow inside and the groovy outside perfectly capture any sauce. The most popular recipes include tortiglioni "alla carrettiera" with tuna, pecorino romano cheese and black olives, and tortiglioni "alla genovese", which despite the name are not from Genoa but from Campania, with a ragu sauce with no tomato and a generous amount of onion.
Ingredients
Durum wheat semolina and water.
Average nutritional values for 100 g of raw product
– Energy: 1555 kJ / 367 Kcal
– Fat: 1.5 g
– of which saturates: 0.2 g
– Carbohydrate: 73.0 g
– of which sugars: 3.0 g
– Fibre: 2.5 g
– Protein: 14.0 g
– Salt: 0.01g
Cooking Tips
Do you cook pasta in a sustainable way? Here are a few tips that can make a difference.
1. Don't waste water, use only the necessary amount: 1 litre of water for every 100 grammes of dry pasta.
2. Cooking with a lid will save time and gas or electricity and the water will boil sooner.
3. Add the salt when the water starts boiling and add the pasta immediately after.
4. Put the lid back on halfway through the cooking time, switch off the gas (or electric hob) and finish cooking your pasta in the hot water inside the covered pot.