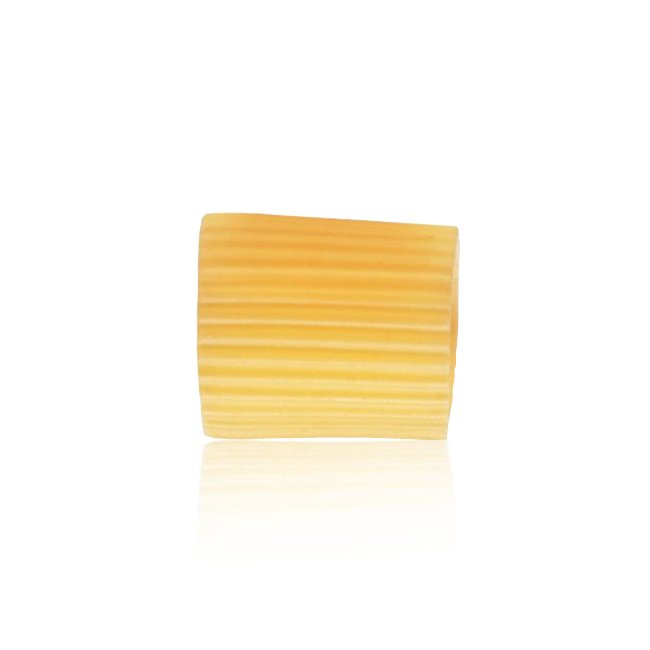 Characteristics, History and Pairings
Mezze maniche is a shape of short pasta with a long history behind it. The name (which in Italian means "half sleeves") is a reference to the length of the sleeves of the garments worn by monks during the summer. A member of the maccheroni family, this type of pasta is shorter and wider than the similarly shaped rigatoni, ideal to capture all types of sauces thanks to its tubular shape and grooved surface.
Cooking Time
12 minutes
Region of Origin
Mezze maniche pasta is originally from the north-central part of Italy, but its popularity quickly spread all around the country, becoming a favourite choice for many different regional recipes.
Best Pairings
As it maintains its firm texture, mezze maniche pasta is perfect for oven baked recipes as well as for traditional dishes such as carbonara, gricia, and arrabbiata.
 The tubular grooved shape allows all sauces to cling to the pasta, from the most thick and robust like ragu, to the smooth and creamy. Among the many delicious recipes, we must mention mezze maniche "alla norcina", with sheep ricotta and spiced sausage, and mezze maniche "alla buttera", a typical Tuscan recipe with pecorino cheese and wild boar sausage. Mezze maniche pasta can also be paired with fish sauces – with or without tomato – made with octopus, swordfish, or small shellfish, which fit nicely inside the hollow tubes.
Ingredients
Durum wheat semolina and water.
Average nutritional values for 100 g of raw product
– Energy: 1555 kJ / 367 Kcal
– Fat: 1.5 g
– of which saturates: 0.2 g
– Carbohydrate: 73.0 g
– of which sugars: 3.0 g
– Fibre: 2.5 g
– Protein: 14.0 g
– Salt: 0.01g
Cooking Tips
Do you cook pasta in a sustainable way? Here are a few tips that can make a difference.
1. Don't waste water, use only the necessary amount: 1 litre of water for every 100 grammes of dry pasta.
2. Cooking with a lid will save time and gas or electricity and the water will boil sooner.
3. Add the salt when the water starts boiling and add the pasta immediately after.
4. Put the lid back on halfway through the cooking time, switch off the gas (or electric hob) and finish cooking your pasta in the hot water inside the covered pot.