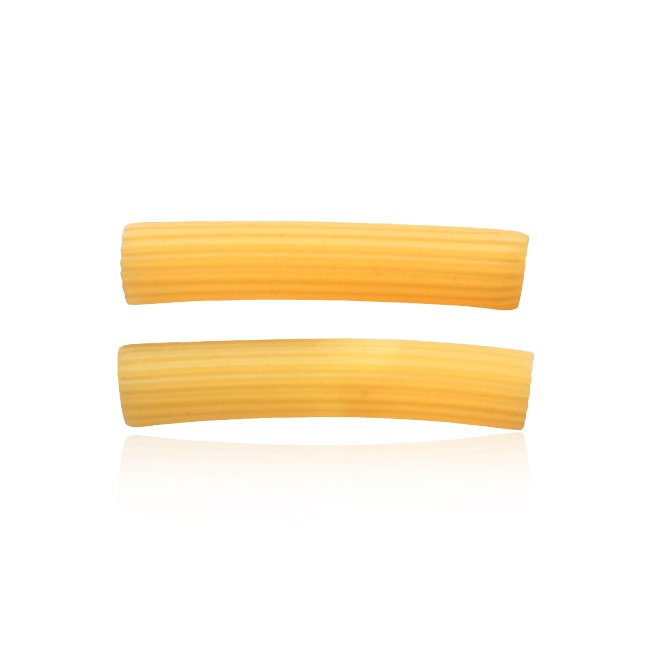 Characteristics, History and Pairings
Sedani rigati is a type of short pasta and one of the most popular tubular variants descended from maccheroni. The slightly bent shape and the originally smooth surface of this type of pasta earned it the nickname of "elephant teeth". Over time, when the surface became grooved like a celery stick, it was renamed sedani rigati, which translates as "grooved celeries". Today a variant of this shape of pasta is straight rather than bent. The strong point of sedani rigati has always been its grooved texture able to capture even the most delicate sauces.
Cooking Time
10 minutes
Region of Origin
This type of pasta was born in Naples but quickly became popular across Italy, albeit with some adjustments and personalised touches. Over the years, it became shorter, hence the smaller sedanini variant.
Best Pairings
In Italy sedani rigati pasta is traditionally used in recipes with white cream or cheese sauces. Sedani rigati with walnuts and cream, or cream, pumpkin and sausage, or smoked salmon and cream, are just some of the many delicious combinations. This doesn't mean that sedani rigati cannot be enjoyed with tomato sauces, for example, with tomato and mascarpone cheese.
Ingredients
Durum wheat semolina and water.
Average nutritional values for 100 g of raw product
– Energy: 1555 kJ / 367 Kcal
– Fat: 1.5 g
– of which saturates: 0.2 g
– Carbohydrate: 73.0 g
– of which sugars: 3.0 g
– Fibre: 2.5 g
– Protein: 14.0 g
– Salt: 0.01g
Cooking Tips
Do you cook pasta in a sustainable way? Here are a few tips that can make a difference.
1. Don't waste water, use only the necessary amount: 1 litre of water for every 100 grammes of dry pasta.
2. Cooking with a lid will save time and gas or electricity and the water will boil sooner-
3. Add the salt when the water starts boiling and add the pasta immediately after.
4. Put the lid back on halfway through the cooking time, switch off the gas (or electric hob) and finish cooking your pasta in the hot water inside the covered pot.