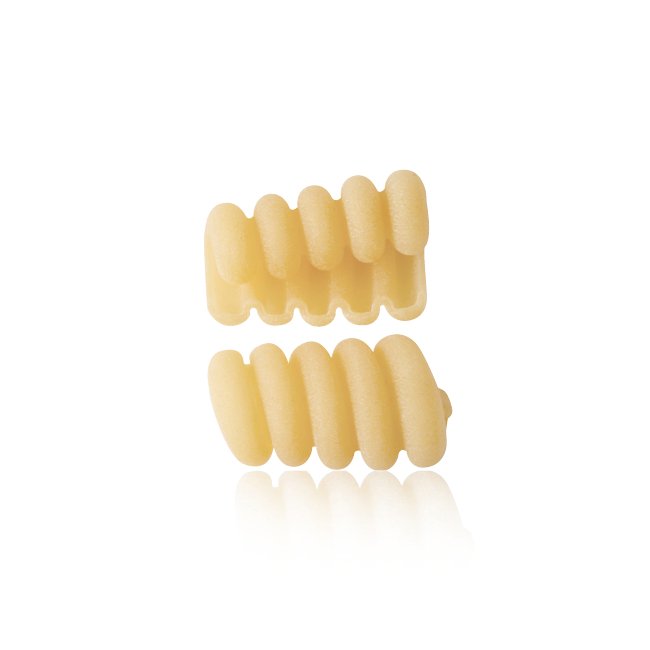 Characteristics, History and Pairings
Radiatori is no doubt one of the most original pasta shapes. Just like other types of pasta created in the early 1900s, the shape is inspired by mechanical elements typical of the technological development of the time. This short pasta resembles fusilli but has a much more complex shape that attempts to reproduce that of the old radiators, hence the name. The result? A chunky pasta with little concentric, undulate wings whose job it is to trap lots of sauce!
Cooking Time
9 minutes
Region of Origin
Radiatori pasta is originally from Naples. It is also part of the group of most representative shapes of pasta from Campania.
Best Pairings
The particularly elaborate undulate shape literally absorbs sauce like a sponge. Therefore radiatori pasta is normally paired with deliciously thick and creamy sauces such as sausage ragu, "earth and turf" mushrooms and tuna, oven baked with lard and fontina cheese, with the traditional basil pesto from Liguria and other variants of pesto made with pistachios or almonds and courgettes.
 As you can see, radiatori can be paired with a great variety of ingredients following just one rule: the sauce must be thick and intense.
Ingredients
Durum wheat semolina and water.
Average nutritional values for 100 g of raw product
– Energy: 1508 kJ / 356 Kcal
– Fat: 1.5 g
– of which saturates: 0.4 g
– Carbohydrate: 72 g
– of which sugars: 3.0 g
– Fibre: 3.0 g
– Protein: 12 g
– Salt: < 0.01 g
Cooking Tips
Do you cook pasta in a sustainable way? Here are a few tips that can make a difference.
1. Don't waste water, use only the necessary amount: 1 litre of water for every 100 grammes of dry pasta.
2. Cooking with a lid will save time and gas or electricity and the water will boil sooner.
3. Add the salt when the water starts boiling and add the pasta immediately after.
4. Put the lid back on halfway through the cooking time, switch off the gas (or electric hob) and finish cooking your pasta in the hot water inside the covered pot.