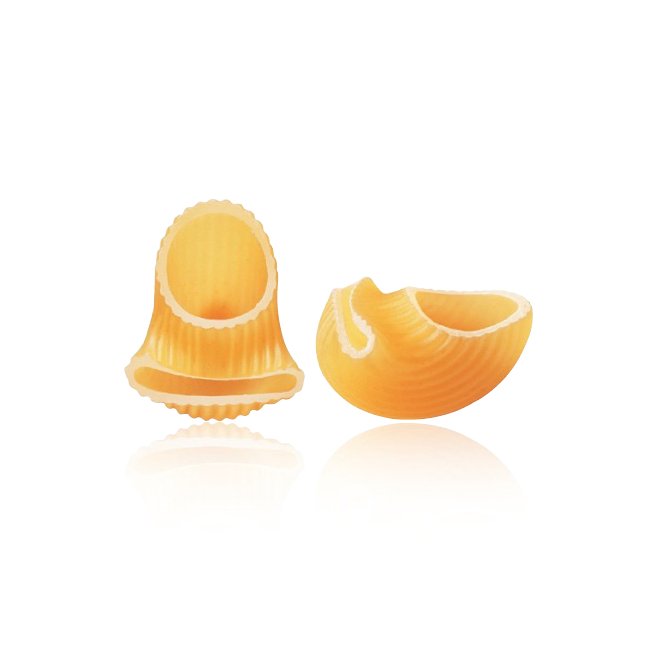 Characteristics, History and Pairings
This is a type of short pasta also called chiocciole or lumache – both Italian words for "snails". Do you know which type of pasta we are talking about?
Exactly, it's pipe rigate! This pasta has a funny short and tubular shape, wide open at one end and squashed, almost closed, at the other. Thanks to this characteristic shape pipe rigate pasta can capture any kind of sauce, even the most liquid. The most common version has a grooved surface, but more recent variants have a smooth surface.
Cooking Time
10 minutes
Region of Origin
Some think that pipe rigate pasta is a tradition of Roman cuisine, others reckon that this kind of pasta originally came from the north-central part of Italy.
Best Pairings
This type of pasta's ability to capture sauce makes it very versatile, meaning it can be paired with light tomato or vegetable sauces in summer recipes, but it's also perfect with hearty and thicker ragu or mushroom sauces. Here we mention just some of the most popular combinations: pipe rigate with cream, peas, and ham; pipe rigate with courgettes, pancetta, and pecorino cheese; pipe rigate with speck and potatoes; pipe rigate with Parmesan cheese cream and sausage.
A larger version of this pasta shape is also great stuffed and baked in the oven…. delicious!
Ingredients
Durum wheat semolina and water.
Average nutritional values for 100 g of raw product
– Energy: 1555 kJ / 367 Kcal
– Fat: 1.5 g
– of which saturates: 0.2 g
– Carbohydrate: 73.0 g
– of which sugars: 3.0 g
– Fibre: 2.5 g
– Protein: 14.0 g
– Salt: 0.01g
Cooking Tips
Do you cook pasta in a sustainable way? Here are a few tips that can make a difference.
1. Don't waste water, use only the necessary amount: 1 litre of water for every 100 grammes of dry pasta
2. Cooking with a lid will save time and gas or electricity and the water will boil sooner
3. Add the salt when the water starts boiling and add the pasta immediately after
4. Put the lid back on halfway through the cooking time, switch off the gas (or electric hob) and finish cooking your pasta in the hot water inside the covered pot.