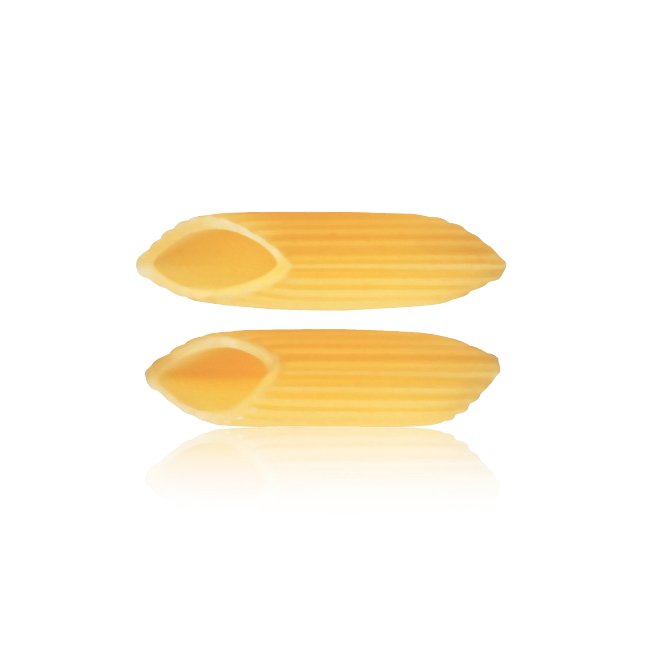 Characteristics, History and Pairings
Mezze penne rigate is a variant of the most popular and loved pasta shape in Italy: penne rigate. Despite the name, which in Italian means "half penne", mezze penne pasta is ¾ of the size of penne and has the same width and thickness. We cannot talk about penne without mentioning the history behind this type of pasta.
Penne date back to exactly 11 March 1865, when Giovanni Battista Capurro, a renowned pasta producer in San Martino d'Albano (today a suburb of the city of Genoa), patented a machine that could cut pasta diagonally without breaking it. Until then, pasta was cut manually with scissors and the result was imperfect and irregular. Penne pasta, as mezze penne, is named after the pen nibs it is made to represent.
In the Middle Ages, tradition required to colour this format of pasta with saffron to intensify its natural amber tones.
Cooking Time
10 minutes
Region of Origin
Penne rigate pasta, of which mezze penne is a shorter variant, is originally from Genoa, in Liguria.
Best Pairings
Mezze penne rigate can be paired with all types of sauces, from the most traditional to the most innovative. Penne "all'arrabbiata", with Bolongese ragu, and with courgettes and scampi are just some of the great pairings you can enjoy.
 Less popular recipes, but just as good, include mezze penne with bell pepper cream sauce and mezze penne with asparagus and pancetta. This extremely versatile pasta shape is as good to prepare winter pasta bakes as it is to create cold vegetable dishes during the summer months.
Ingredients
Durum wheat semolina and water.
Average nutritional values for 100 g of raw product
– Energy: 1555 kJ / 367 Kcal
– Fat: 1.5 g
– of which saturates: 0.2 g
– Carbohydrate: 73.0 g
– of which sugars: 3.0 g
– Fibre: 2.5 g
– Protein: 14.0 g
– Salt: 0.01g
Cooking Tips
Do you cook pasta in a sustainable way? Here are a few tips that can make a difference.
1. Don't waste water, use only the necessary amount: 1 litre of water for every 100 grammes of dry pasta.
2. Cooking with a lid will save time and gas or electricity and the water will boil sooner.
3. Add the salt when the water starts boiling and add the pasta immediately after.
4. Put the lid back on halfway through the cooking time, switch off the gas (or electric hob) and finish cooking your pasta in the hot water inside the covered pot.