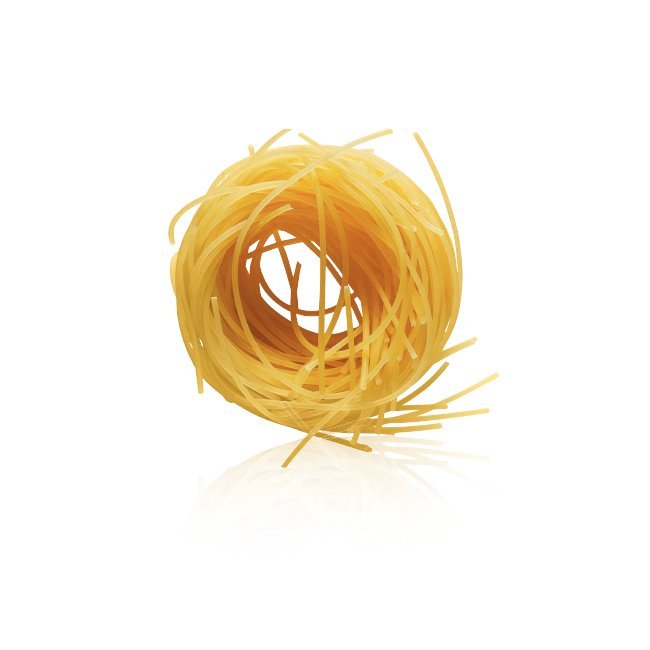 Characteristics, History and Pairings
Fidelini is a very fine type of spaghetti originally form Liguria. Originally this type of pasta was different from the version we know today, i.e. long spaghetti dried in the shape of a bird's nest. In Arab books, the first mentions are of very short fine threads of pasta. Historians suggest that this was the pasta that in the 1400s left on Genoan ships from the ports of Palermo and Cagliari, where rich communities of Genoan traders were based. Documents show that at the time "fidej" pasta production was so significant that an association of pasta producers called Fidelari was established in Genoa in 1574, and this is most probably where fidelini pasta got its name from.
Cooking Time
2 minutes
Region of Origin
Despite the fact that the popularity of this type of pasta successfully reached the south of Italy at around the same time – Campania in particular – fidelini pasta is originally from Liguria.
Best Pairings
Fidelini pasta is best enjoyed with simple ingredients, such as butter and cheese, butter and sage, or fresh tomato with salted anchovy fillets and garlic. It's also great in broths and soups, in which case it should be broken by hand before cooking. In Campania, this pasta is also used to prepare oven baked dishes.
Ingredients
Durum wheat semolina and water.
Average nutritional values for 100 g of raw product
– Energy: 1508 kJ / 356 Kcal
– Fat: 1.5 g
– of which saturates: 0.4 g
– Carbohydrate: 72 g
– of which sugars: 3.0 g
– Fibre: 3.0 g
– Protein: 12 g
– Salt: < 0.01 g
Cooking Tips
Do you cook pasta in a sustainable way? Here are a few tips that can make a difference.
1. Don't waste water, use only the necessary amount: 1 litre of water for every 100 grammes of dry pasta.
2. Cooking with a lid will save time and gas or electricity and the water will boil sooner.
3. Add the salt when the water starts boiling and add the pasta immediately after.
4. Put the lid back on halfway through the cooking time, switch off the gas (or electric hob) and finish cooking your pasta in the hot water inside the covered pot.