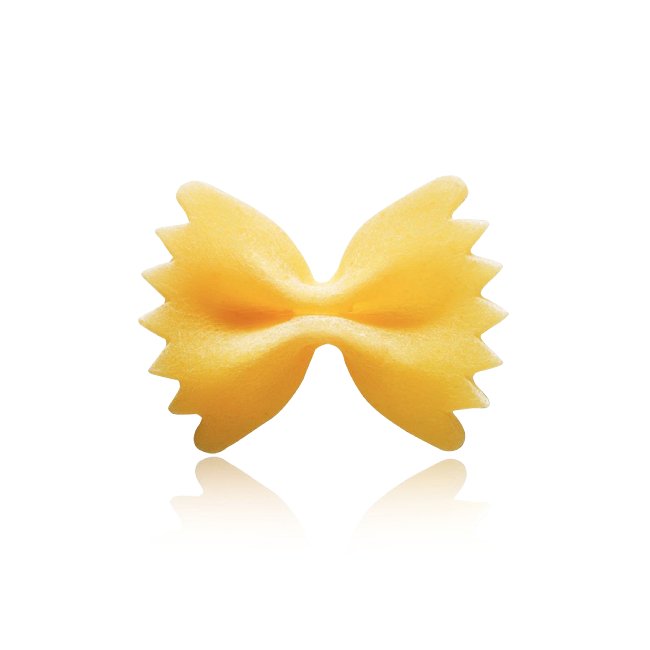 Characteristics, History and Pairings
Farfalle is a shape of short pasta and no doubt one of the most unique, pretty, and popular with children. The shape resembles a butterfly – "farfalla" in Italian. Some like to think of it as a bow tie!
This pasta is made from little square pieces of pasta sheets dented on two opposite edges and pinched in the middle. The result is a kind of pasta with a double texture, more firm in the centre and more delicate around the edges.
Smaller and larger variations of farfalle – known respectively as farfalline and farfallone – have been created over the years. In Bologna, a popular variant made with eggs is known as stricchetti.
Cooking Time
13 minutes
Region of Origin
Farfalle pasta was born in the north of Italy, in the 1500s, and was enjoyed mainly in Emilia Romagna and Lombardy. Nowadays it is one of the most popular shapes in Ligurian cuisine, normally enjoyed with the traditional basil pesto.
Best Pairings
Farfalle pasta is often paired with classic sauces such as ragu, mushrooms, ham and peas, and courgettes and prawns. The butterfly shape captures sauce well in the middle part rather than on the smooth wings. In summer, farfalle pasta is a popular choice for cold dishes with ingredients such as fresh tomatoes and basil, tuna and sweetcorn, or salmon, green olives, and rocket!
Ingredients
Durum wheat semolina and water
Average nutritional values for 100 g of raw product
– Energy: 1555 kJ / 367 Kcal
– Fat: 1.5 g
– of which saturates: 0.2 g
– Carbohydrate: 73.0 g
– of which sugars: 3.0 g
– Fibre: 2.5 g
– Protein: 14.0 g
– Salt: 0.01g
Cooking Tips
Do you cook pasta in a sustainable way? Here are a few tips that can make a difference.
1. Don't waste water, use only the necessary amount: 1 litre of water for every 100 grammes of dry pasta
2. Cooking with a lid will save time and gas or electricity and the water will boil sooner
3. Add the salt when the water starts boiling and add the pasta immediately after
4. Put the lid back on halfway through the cooking time, switch off the gas (or electric hob) and finish cooking your pasta in the hot water inside the covered pot.