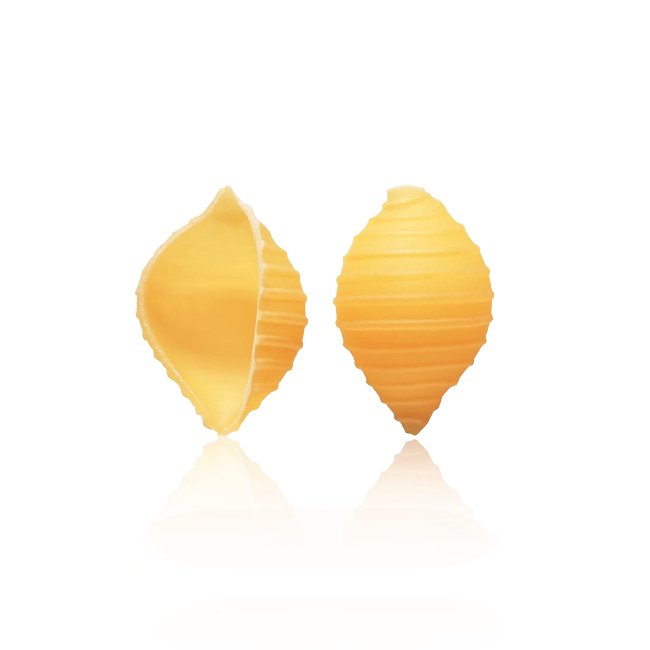 Characteristics, History and Pairings
Grooved conchiglie pasta is a type of short, open pasta with a unique shape, always very popular.
 Conchiglie is the Italian word for "seashells", which is what this type of pasta is shaped like. This pasta has many variants that come in different sizes and with different surfaces. Conchigliette is the smallest version, while conchiglioni is the largest, and both can be smooth and grooved, to suit all tastes.
Cooking Time
13 minutes
Region of Origin
Conchiglie pasta is originally from Campania.
Best Pairings
The open shape of this type of short pasta means it fills and retains all the different types of sauces it is paired with. When it comes to pairing this type of pasta, the choice is determined by its size.
The smaller size is perfect in soups and broths. In Campania, conchiglie are traditionally paired with vegetables or with the delicious and very popular broccoli and sausage combination. Large conchiglioni are perfect to be stuffed with ragu sauce, ricotta and spinach, or mushroom, ham and bechamel sauce, but also simply and deliciously with tomato, basil, and mozzarella.
In any case, regardless of the size, the grooved variants are the ones that retain the sauce better.
Ingredients
Durum wheat semolina and water.
Average nutritional values for 100 g of raw product
– Energy: 1508 kJ / 356 Kcal
– Fat: 1.5 g
– of which saturates: 0.4 g
– Carbohydrate: 72 g
– of which sugars: 3.0 g
– Fibre: 3.0 g
– Protein: 12 g
– Salt: < 0.01 g

Cooking Tips
Do you cook pasta in a sustainable way? Here are a few tips that can make a difference.
1. Don't waste water, use only the necessary amount: 1 litre of water for every 100 grammes of dry pasta.
2. Cooking with a lid will save time and gas or electricity and the water will boil sooner.
3. Add the salt when the water starts boiling and add the pasta immediately after.
4. Put the lid back on halfway through the cooking time, switch off the gas (or electric hob) and finish cooking your pasta in the hot water inside the covered pot.